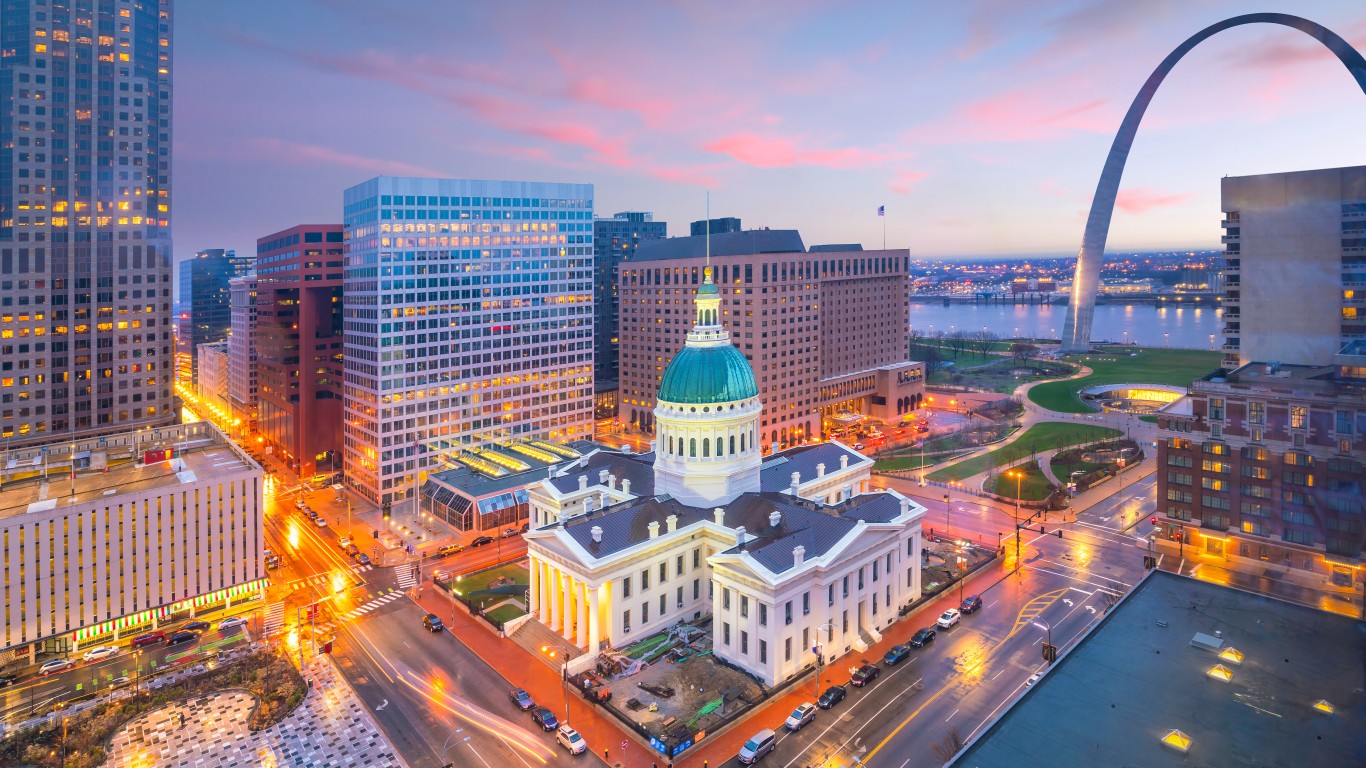 The quality of American public schools can vary widely between states, cities, and even districts. Not all schools are able to provide students with the same level of education, access to extracurriculars, counseling, or college preparation. While each public school faces its own unique challenges, each state has one public school that stands out as the very best.
The best public high schools tend to be in relatively affluent areas, where incomes are well above the U.S. median household income of $62,843. A wealthier tax base for a school district means that schools have more funding to hire teachers and other faculty and provide more extracurriculars.
In many of the best public high schools in a given state, the vast majority of students graduate and perform well in educational assessments. Nationwide, only 24% of students are proficient in math and 37% are proficient in reading, according to the National Assessment of Educational Progress.
Students at top high schools also tend to perform well in college entrance exams like the SAT and ACT, with reported scores well above the 1058 out of 1600 nationwide average for the SAT and the 20.6 out of 36 average for the ACT.
Ladue Horton Watkins High School in St. Louis ranks as the best school out of more than 500 public high schools in Missouri, earning an overall A+ grade from school data platform Niche. The school also earned top marks for its academics, clubs and activities, and college prep.
Ladue Horton Watkins High School has math and reading proficiency rates above 70% and an average graduation rate of 99%. According to a Niche survey, the vast majority of students feel that teachers give engaging lessons and genuinely care about the students.
To determine the best public high schools in every state, 24/7 Wall St. reviewed the 2022 K-12 School & District Rankings from Niche, a platform for education data. The Niche ranking is based on academic and student life data from the U.S. Department of Education as well as student reviews submitted to Niche. Data on student count and student-teacher ratio came from Niche.
| State | School | City/district | Students | Student-teacher ratio |
| --- | --- | --- | --- | --- |
| Alabama | Loveless Academic Magnet Program High School | Montgomery County Schools | 491 | 16:1 |
| Alaska | Mat-Su Career & Tech Education High School | Matanuska-Susitna Borough School District | 732 | 19:1 |
| Arizona | BASIS Oro Valley | Oro Valley | 626 | 6:1 |
| Arkansas | Haas Hall Academy | Haas Hall Academy | 451 | 14:1 |
| California | Henry M. Gunn High School | Palo Alto Unified School District | 1,996 | 19:1 |
| Colorado | Cherry Creek High School | Cherry Creek School District | 3,806 | 21:1 |
| Connecticut | Staples High School | Westport School District | 1,828 | 12:1 |
| Delaware | The Charter School of Wilmington | Wilmington | 971 | 21:1 |
| Florida | Pine View School | Sarasota County Schools | 1,877 | 17:1 |
| Georgia | Gwinnett School of Mathematics, Science & Technology | Gwinnett County Public Schools | 1,154 | 17:1 |
| Hawaii | Mililani High School | Hawaii Department of Education | 2,620 | 18:1 |
| Idaho | Boise Senior High School | Boise Independent School District | 1,570 | 18:1 |
| Illinois | Payton College Preparatory High School | Chicago Public Schools | 1,220 | 16:1 |
| Indiana | Indiana Academy for Science, Mathematics, and Humanities | Muncie | 239 | 7:1 |
| Iowa | Pleasant Valley High School | Pleasant Valley Community School District | 1,461 | 18:1 |
| Kansas | Blue Valley North High School | Blue Valley Unified School District (Overland Park) | 1,483 | 15:1 |
| Kentucky | DuPont Manual High School | Jefferson County Public Schools | 1,887 | 17:1 |
| Louisiana | Benjamin Franklin High School | New Orleans | 997 | 20:1 |
| Maine | Maine School of Science & Mathematics | Limestone | 133 | 10:1 |
| Maryland | Poolesville High School | Montgomery County Public Schools | 1,205 | 19:1 |
| Massachusetts | MA Academy for Math & Science School | Worcester | 99 | 16:1 |
| Michigan | International Academy | Oakland Schools | 1,520 | N/A |
| Minnesota | Minnetonka Senior High School | Minnetonka Public School District | 3,386 | 19:1 |
| Mississippi | The Mississippi School for Mathematics and Science | Columbus | 238 | 11:1 |
| Missouri | Ladue Horton Watkins High School | Ladue School District | 1,315 | 15:1 |
| Montana | Bozeman High School | Bozeman | 2,243 | 17:1 |
| Nebraska | Millard North High School | Millard Public Schools | 2,614 | 18:1 |
| Nevada | The Davidson Academy | Reno | 178 | 4:1 |
| New Hampshire | Hanover High School | Sau 70 | 742 | 12:1 |
| New Jersey | High Technology High School | Lincroft | 293 | 13:1 |
| New Mexico | Arrowhead Park Early College High School | Las Cruces Public Schools | 343 | 18:1 |
| New York | Stuyvesant High School | New York City Geographic District No. 2 | 3,384 | 21:1 |
| North Carolina | North Carolina School of Science and Mathematics | Durham | 680 | 7:1 |
| North Dakota | Fargo Davies High School | Fargo | 1,295 | 15:1 |
| Ohio | Indian Hill High School | Indian Hill Exempted Village School District | 628 | 12:1 |
| Oklahoma | Oklahoma School of Science and Mathematics | Oklahoma City | 150 | 6:1 |
| Oregon | School of Science & Technology | Beaverton School District | 175 | 24:1 |
| Pennsylvania | Julia R. Masterman Secondary School | Philadelphia City School District | 1,207 | 24:1 |
| Rhode Island | Barrington High School | Barrington Public Schools | 1,122 | 14:1 |
| South Carolina | South Carolina Governor's School for Science & Mathematics | Hartsville | 270 | 13:1 |
| South Dakota | Washington High School | Sioux Falls School District | 1,950 | 17:1 |
| Tennessee | Hume-Fogg Academic Magnet School | Metro Nashville Public Schools | 907 | 20:1 |
| Texas | School for the Talented & Gifted | Dallas Independent School District | 409 | 17:1 |
| Utah | Karl G. Maeser Preparatory Academy | Lindon | 634 | 17:1 |
| Vermont | South Burlington High School | South Burlington School District | 880 | 13:1 |
| Virginia | Maggie Walker Governor's School | Richmond | 746 | 15:1 |
| Washington | Tesla STEM High School | Lake Washington School District | 603 | 21:1 |
| West Virginia | Bridgeport High School | Harrison County Schools | 833 | 17:1 |
| Wisconsin | Brookfield East High School | Elmbrook School District | 1,310 | 17:1 |
| Wyoming | Jackson Hole High School | Teton County School District No. 1 | 740 | 13:1 |